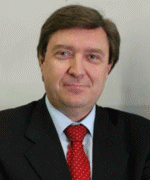 A warm welcome to the website of the Independent Advisory Expert Group (IAEG) on "Data revolution for development".
As everybody knows, data and data analysis are surrounding and influencing our lives more than ever. Citizens, businesses and public and private institutions are the engine of this process, providing data on almost all human activities, especially when using ICT. In parallel, sensors, satellites and other tools produce real-time data on the environment, mobility behaviours and more.
We have at our disposal a huge amount of statistical information and much more will be available in the future. But this is not enough. Many countries still lack fundamental data about their economic, social and environmental conditions. Data on key phenomena related to people's wellbeing are still missing, especially for the most vulnerable groups. Even where data are available, evidence-based decision making is not happening as frequently as it should.
A lack of data literacy is another issued to be addressed – a large proportion of our populations do not have the skills to analyse data, not only to improve their decisions, but also to hold policy makers accountable. Media still inaccurately report data or do not report key statistics at all. In other words, the chain "statistics, knowledge and policy" is broken in several places.
The IEAG has been asked to craft a strategic framework on what the "data revolution for development" would mean in practice, how it can be funded and what institutional and governance implications this would entail. Specifically, the Group is asked to suggest measures to close the data gaps and strengthen national statistical capacities, and to assess the new opportunities linked to innovation, technical progress and the surge of new public and private data providers to support and complement the conventional national countries statistical systems to support the sustainable development agenda, as well as to strengthen accountability at the global, regional and national level.
The IEAG was established by the UN Secretary General at the end of August. Since then, we have been working very hard to collect a wide range of documents, ideas and inputs to develop our Report, with publication due in November. We want to do that by harnessing the wide knowledge built over the years on these themes, as well as the wealth of new ideas that are still at an embryonic level. This is why, despite the short time available, we kindly encourage you to provide ideas, suggestions, inputs to this process.
Today we have the first plenary meeting of the IEAG, while tomorrow we will spend the whole day listening to groups that have offered to contribute to our work. The delivery of the Report will not be "the end of the story": on the contrary, we are convinced that the consultation process on the next steps should continue over time, building a world community ready to contribute to and benefit from the "data revolution".
We count on you.
Enrico Giovannini, Co-chair of the IEAG
IMAGE: Enrico Giovannini